Trade Show Exhibits Rentals Services Provider Company
One-Stop Solution To Fulfil Your Trade Show Exhibits Rentals Needs
We Have Made Trade Show Exhibits Renting Easier Than Ever
Renting a trade show booth can be a better option than buying an exhibit. Understand that business can bring about many unpredictable situations. It could be a tight budget, or a limited time to set up booth design. You can still benefit from exhibiting at a trade show, even in less-than-optimal times. Exhibit Booth Rentals is the answer! We are a company that is centered around the customer. This means we offer all solutions to our clients so they can find everything in one place.
Sensations Exhibits is exhibits rental company, it has a large inventory of trade show exhibits for rent, which includes the best in-house designs. Our high-tech and fashionable rental booth inventory can help you find a booth that will meet all of your marketing and brand-building needs, whether you are looking for a small budget booth rental or the largest. Rental exhibits have been designed to meet the needs of different exhibitors and create a lasting impression amongst customers and competitors.
Our recent work has been showcased in a gallery that features our exhibit design creations.
What Makes Our USA Trade Show Exhibits Rental Services Different?
Sensations takes on the burden of a client's exhibiting, as it is a complex process that involves many tasks. We take care of all these tedious jobs so they can focus on their main trade show activities, such as lead generation, client handling, staff training, and coordination with various stakeholders. We are the leading provider of trade show booth rental services. Our clients can focus on their primary trade show activities such as lead generation and client handling. Staff training and coordination with stakeholders is also include. What makes us stand out from other rental display service providers?
Conceptualized Designs

The rental booths are designed to maximize and facilitate communication with the target audience.

Rent digital & tech-oriented exhibits

Our clients benefit from our exclusive booth designs and digital and tech-based rentals displays. We aim to increase engagement at trade shows, and enhance your visitor experience.

Experienced and Creative Team

We have 18 years experience in the industry of trade shows and a creative team that ensures the quality of our work.

Early & Professional Support

We never neglect our clients. We believe in providing the best solution for our clients by answering all their questions.

Consolidated & Comprehensive Costing

We offer a variety of benefits. We respect the time you spend and your money. We keep our billing all-inclusive, and consolidate it.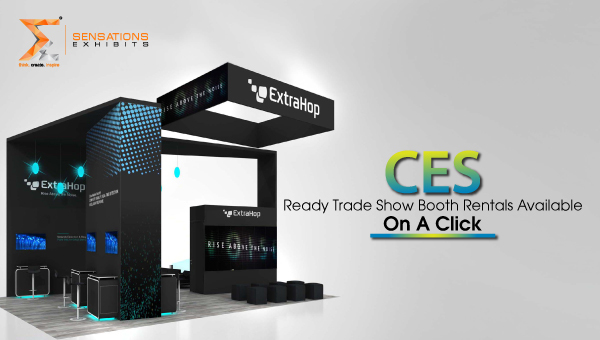 Renting exhibits Displays is the best solution for a USA trade show
We are a provider of turnkey trade show rental displays services for exhibits. This means that we can provide you with the best services, without any hassle. Sensations' team will ensure that you receive your exhibit rental in perfect condition. This includes everything from exploring the many different trade show exhibit rental, to their transport and installation. We do our best to help you get the most from your exhibits rentals Displays in USA. Contact our exhibit specialist today to find out more about our rental inventory. We will help you bring your creative vision to life on the trade show floor.
We look forward to helping your brand gain a stronger presence on the market.